The Grand Jury for the 5th edition of the Social Media for Empowerment Awards 2018 was successfully held on 13th April 2018. This year we received 180 good nominations across 07 categories. The virtual Jury members managed to filter 169 valid entries to 85 for the final evaluation by the Grand Jury. A panel of 18 Jury members looked into the filtered nominations.
The list of Winners and Special Mentions will be revealed on stage at the 5th Social Media for Empowerment Awards 2018 at The Eros Hotel, Nehru Place, New Delhi on May 25, 2018.
Jury Moments: https://photos.app.goo.gl/AspAmTsA70gza8w03
MEET OUR JURORS
Osama Manzar
@osamamanzar
Digital Empowerment Foundation
Osama Manzar is a global leader on the mission of eradicating information poverty from India and global south using digital tools through Digital Empowerment Foundation, an organisation he founded in 2002. A British Chevening Scholar and an International Visitors Leadership Program Fellow of the US State Department, Osama is a social entrepreneur, author, columnist, impact speaker, angel investor and mentor. He is member, advisory board, at Alliance for Affordable Internet and sits on several government and policy committees in India and on international organisations working in the areas of Internet, access, and digital inclusion. Osama is also the chairman of Manthan and mBillionth Awards, and has co-authored NetCh@kra–15 Years of Internet in India and Internet Economy of India. Osama writes a weekly column in Indian financial daily Mint and tweets at @Osama Manzar.
Gayatri Oleti
@gayatriMoleti
L&T
Gayatri Mishra Oleti, Ph D, heads operations of Larsen Toubro Public Charitable Trust. A social development professional, she is an alumna of the London School of Economic and XIMB Bhubaneswar. With over 20 years of experience in the social and corporate sectors, her core expertise lie in building collaborations with the governments, civil society groups and corporates to leverage resources and accentuate programme impact; designing evidence-based multi sectoral programmes to reach last mile; data analytics in the social sector to empower stakeholders to make data-driven decisions. Gayatri has worked with SAIL, UCAL Fuel Systems Ltd, USAID, World Bank, DFID and the Children Investment Fund Foundation-UK. She is also the co-founder of a not-for-profit entity, The Enabler Foundation, that works in the areas of social policies relating to digital and financial exclusion.
Gayatri Subramaniam
@Gayatrisubrama
HDFC Standard Life Insurance Company
With an academic and industrial experience of more than 32 years, Gayatri Subramaniam is Associate Vice President – CSR (L&D) at HDFC Standard Life Insurance Company. Before joining HDFC Life, Gayatri was associated with the Indian Institute of Corporate Affairs (IICA), under the aegis of the Ministry of Corporate Affairs, where she was contributing towards policy advisory, capacity building and knowledge dissemination in the field of corporate social responsibility. She has been an integral part of the processes of the new legislation on CSR in India. In her previous role at IICA, she was instrumental in establishing the National Foundation for Corporate Social Responsibility, a unique platform created for governments, corporates and NGOs. From 2009 to 2011, Gayatri was also involved in the development of the National Voluntary Guidelines for social, economic and environmental responsibilities of business and the Business Responsibility Reporting Framework that was mandated by SEBI for top 500 companies listed under the Bombay Stock Exchange and the National Stock Exchange.
Mahima Kaul
@misskaul
Twitter

Mahima Kaul heads Public Policy and Government at Twitter India. In this role, she oversees the company's relationships with policymakers, elected officials, government agencies and NGOs in India and directs policy programmes in these areas. She also manages the #TwitterForGood programme under which she engages NGOs in using Twitter for civic engagement, including disaster and crisis management. Previously, she headed the Cyber Initiative at the Observer Research Foundation, one of India's leading think tanks, where she wrote extensively on Internet policy issues. She is also co-chair of the CyFy conference run by ORF. Mahima has a Master's degree from the University of Westminster in Communication Policy and a Bachelor's from McGill University in Political Science.
Manju Dhasmana
Microsoft India
Manju Dhasmana is Director – Community Affairs at Microsoft India where she drives the company's philanthropies mandate of digital inclusion—from digital skills training and helping youth get jobs and start businesses to educating the next generation of innovators through greater access to computer science education for all youth. She also leads the portfolio of partnerships with non-profits and NGOs to deliver the benefit of technology to the underserved communities. In her role, she has the privilege to work on Microsoft's vibrant employee engagement programme, which supports more than 100 NGOs through financial and time contribution match. Manju has over 18 years of experience to build and deliver strategic CSR programmes aligned to national and local priorities, design and implement sustainable community development programmes in collaboration with multiple stakeholders. In 2009, she joined Microsoft from United Nations Development Programme (UNDP) and was with Oxfam GB before that. With her diverse experience of working with corporates, non-profits, bilaterals and governments, she is a firm believer in the power of public – private partnership for inclusive growth.
Naghma Mulla
@justnugs
EdelGive Foundation
Naghma Mulla, the Chief Operating officer at EdelGive Foundation, holds a Master's degree in commerce and is Chartered Accountant by profession. In her current capacity, she spearheads three verticals— Investments & Programmes, Fundraising & Partnerships, and Employee Engagement. She actively works towards creating and maintaining a sustainable philanthropy network to support EdelGive investee portfolio. She is responsible for strategizing and promoting collaborations between different stakeholders in the social space i.e, the NGOs, the donors, corporates and Edelweiss employees. Naghma is deeply involved with the Capacity Building Model wherein she works towards sourcing high quality solutions in aid of critical organisational issues being faced by investee organisations. Prior to this, she had a stint with Bajaj Allianz where she was part of the core finance team. Naghma is also mentor to NSRCEL – IIM Bangalore.
Natasha Badhwar
@natashabadhwar
Film-maker & Author
Natasha Badhwar is an independent film-maker, media trainer and columnist. She is the author of My Daughters' Mum, a heart-warming book on essential subjects, from selfhood and faith to parenting and marriage. At its core, it is searingly personal, and yet the emotions and experiences are astonishingly universal. She writes a weekly column on relationships, family and society in Mint Lounge. Natasha began her career in broadcast journalism with NDTV as the first female videographer in news television in India. She quit 13 years later as Vice President, Training and Development.
Nazia Erum
@nazia_
Author
Nazia Erum is the author of a bestselling book titled 'Mothering a Muslim', which has opened up prime-time discussions on the telly, columns in newspapers and reams of reviews. It has been called an 'important book' for our times that 'fills a gap in Indian literature'. Previously, Nazia has handled communications for the Global Fund, lead projects for development organisations, including the United Nations, and has also been an entrepreneur with her work wear brand, TheLuxuryLabel.in. Nazia is a columnist with CNN-News 18 and India Today (Daily O mag) where she writes on the cross sections of gender, inter-faith and politics, mostly work on bringing to the fore that which was under-represented, under-reported or perspectively missing from discourse.
Nida Hasan
@hasanida
Change.org
Nida Hasan has been part of the Change.org India team since 2014. She currently heads Campaigns for Team India and is responsible for executing the vision for the Women and Girls project. In this capacity, she leads a team of campaigners to support women leaders through content, mobilisation and strategy support, which has led to some of the most iconic digital campaigns in the country. She is also responsible for establishing a strong environment and infrastructure that facilitates citizen community and movement building. She initiates and nurtures strong partnerships with women leaders, civil society organisations working on women's rights and other stakeholders in government.
Namita Bhandare
@namitabhandare
Journalist
Namita Bhandare is a journalist with nearly 30 years of reporting experience for various publications, including magazines like Sunday and India Today, and the dailies like The Hindustan Times. She was appointed India's first gender editor for Mint newspaper, and continues to write a fortnightly column on gender and social issues for The Hindustan Times. Namita has a Master's degree in journalism from Stanford University and was Katherine Howard Miller Leader-in-Residence at Scripps College, California, in 2015.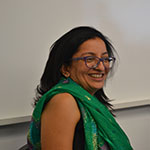 Priya Ramani
@priyaramani
Editor, Columnist
Priya Ramani is an editor and columnist based in Bengaluru. She has worked in a variety of news organisations, including Reuters, India Today, Cosmopolitan and The Indian Express. She was on the team of editors that founded Mint and conceptualised and ran Mint Lounge, its weekend magazine for eight years. She has also been a commissioning editor at Juggernaut, India's only mobile-first publishing house.
Radhika Bordia
@radhikabordia
NDTV
A television journalist for more than 20 years, Radhika Bordia is Senior Features Editor at NDTV. She has worked on several docustyle series, such as 24 Hours, Witness and India Matters, each of which has looked at issues through the combined lenses of current affairs and culture.
Sakina Baker
Bharti Infratel
Sakina Baker heads CSR at Bharti Infratel, one of the largest telecom tower companies in India. She has 18 years of professional experience in development and corporate sector and has worked on different social concerns, including healthcare, disability, education, water and sanitation, skill development and good governance in voluntary sector. Prior to joining Infratel, she was heading CSR at Fortis Healthcare and also managed operations of Fortis Foundation. Her experience in the voluntary sector, both at the national and international levels, included working with the Rajiv Gandhi Foundation, the National Centre for Promotion for Disabled People, Katha and the Voluntary Action Network India. Sakina is a recipient of the prestigious Commonwealth Professional Fellowship in Scotland and was felicitated as one of the '50 Most Talented CSR Professionals of India' by the World CSR Congress.
Sowmya Kidambi
@sowmyakidambi
Govt of Telangana
Sowmya Kidambi is the Director of the Society for Social Audits, Accountability and Transparency (SSAAT), Department of Rural Development, Government of Telangana. She was the Director for the SSAAT-Andhra Pradesh till 2017. She holds a Master's degree in Social Work (Urban and Rural Community Development) from TISS Mumbai and a Diploma in Human Rights from the Columbia University in New York. In 1998, she joined the Mazdoor Kisan Shakti Sangathan (MKSS) in Rajasthan, an organisation that has played an important role in the formulation and passage of the Right to Information Act and the Mahatma Gandhi National Rural Employment Guarantee Acts in India. She continues to be a member of the MKSS. She has previously worked with the International Budget Partnership, Washington DC, and has also trained groups in countries like Kenya to Social Audit the Constituency Development Fund and South Africa to audit the Janitorial and Sanitation services.
Seema Chowdhry
@SeemaC
Editor, Mint
Seema Chowdhry is the editor of Business of Life, a daily features section and Philanthropy and Corporate Social Responsibility (CSR) at Mint, a business newspaper. She has been a part of Mint since its inception in 2007. Some of her recent writings have included topics related to women in the workplace, social entrepreneurship, and CSR. From 2016 to 2017, she was a scholar pursuing Master in Public Administration Programme, Lee Kuan Yew School of Public Policy, National University of Singapore, where she undertook courses in urban interventions, media and public opinion, environmental economics and sustainability, and decentralization
Stephanie Joy Raison
UNICEF Delhi
Stephanie Joy Raison is the Communications Specialist for UNICEF India and also the lead on Social Media.
Veena Padmanabhan
Consultant
Veena is an HR professional with nearly 20 years of experience in Wipro and Schneider Electric. She has worked in various capacities in the area of Human Resource & Sustainability. She holds a Masters in Personnel Management & Industrial Relations from the Xavier School of Management, and has been volunteering for the last five years with various organisations and considers herself gainfully unemployed. She is an avid reader and passionate about environment. She enjoys exploring nature with her family.
Yasmin Kidwai
@YasminKidwai
Documentary Film-maker
After graduating in in Sociology Honors from Hindu College, Yasmin Kidwai followed up with two post-graduate diplomas in film-making and Journalism from the Xavier Institute of Communications in Mumbai. Having gained experience assisting directors like Mahesh Bhatt and Simi Garewal, Yasmin briefly worked with NDTV before beginning her career as an independent documentary filmmaker in Delhi. In the last 19 years, she has made 50 films, with a focus on rural and social development issues. Her work has effected changes in government policy and pioneered methods of funding and showcasing films. She has worked extensively with the Ministry of External Affairs, state governments such as Karnataka and Madhya Pradesh, and with NGOs like Helpage India. In 2001, she made a documentary on the Bhuj earthquake, and went on to make integral films that explored greater protection for senior citizens, women's role and rights when reservation in Panchayati Raj was introduced, Gujarat riots and the Barefoot Grandmamas in India. Besides being a film-maker, Yasmin also works with artisan communities around India to develop new styles in Indian women's clothing using age-old techniques of cloth weaving. Yasmin is an elected councilor to the South Delhi Municipal Corporation and is Secretary of the newly formed All India Professionals Congress. She was recently nominated as member All India Congress Committee.